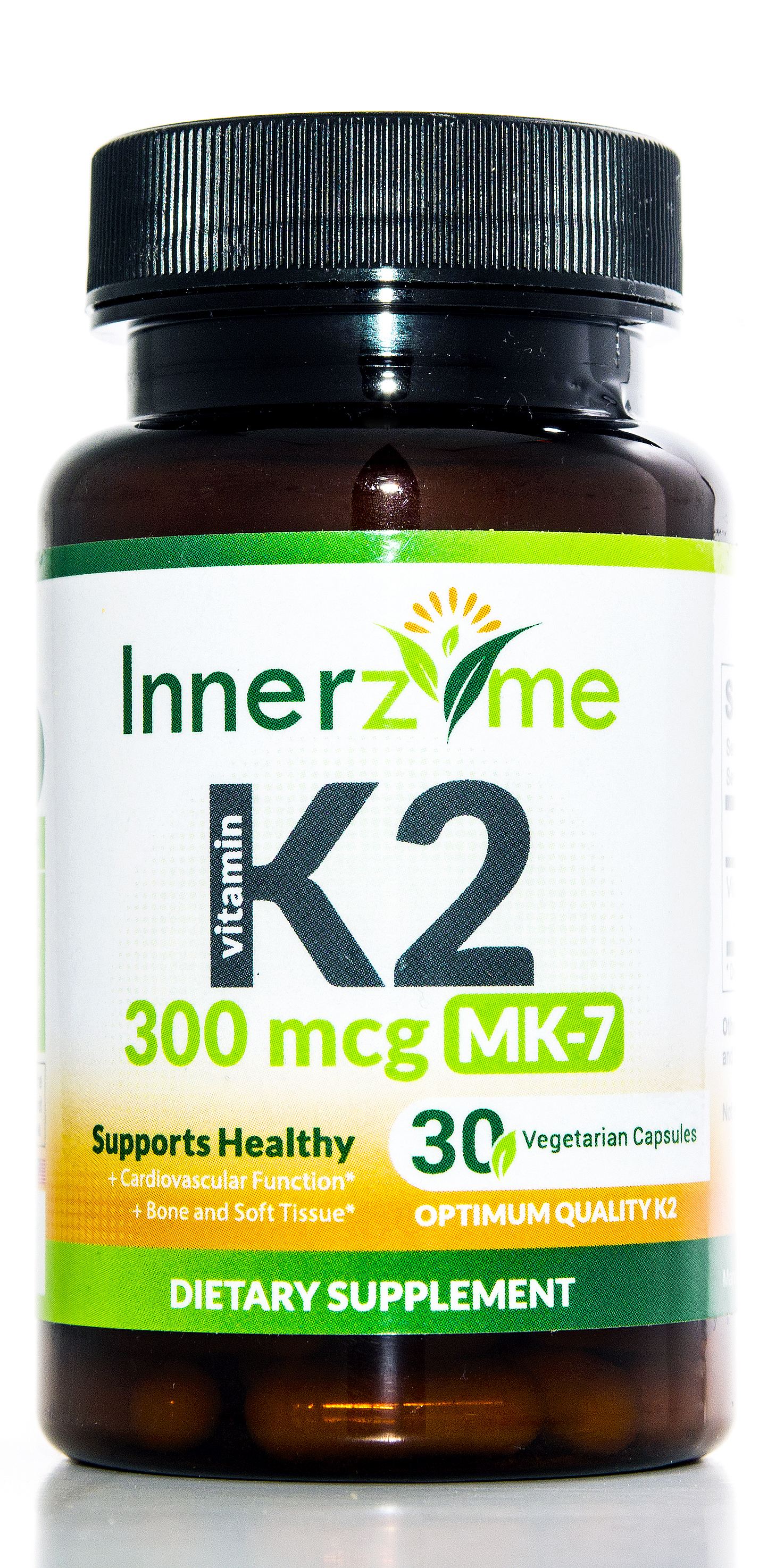 INNERZYME VITAMIN K2, MK-7, 300mcg
PURE & NATURAL VITAMIN K2
Available in a 30 count & 90 count
Order - Buy Now!
Innerzyme offers an optimum quality, all natural form of Vitamin K2, MK-7 (as menaquinone-7) from Non-GMO fermented soybeans.  Research indicates Vitamin K2, MK-7 may have a positive impact on cardiovascular, bone and soft tissue health. Also, it is the role of Vitamin K2 to ensure calcium is properly deposited into bones and removed from the arteries. Vitamin K2 deficiency is on the rise and linked to many age-related health conditions.
SUPPLEMENT FACTS
Serving Size: 1 Vegetarian Capsule
Servings Per Container: 90
Amount Per Serving
% Daily Value
Contains:
Vitamin K2 MK-7


(as menaquinone-7 from fermented soybeans)

300 mcg
*
* Daily Value not established
Other ingredients: HPMC (Hydroxypropylmethyl-cellulose), Vegetable Magnesium Stearate, Vegetable Microcrystalline Cellulose, Silicondioxide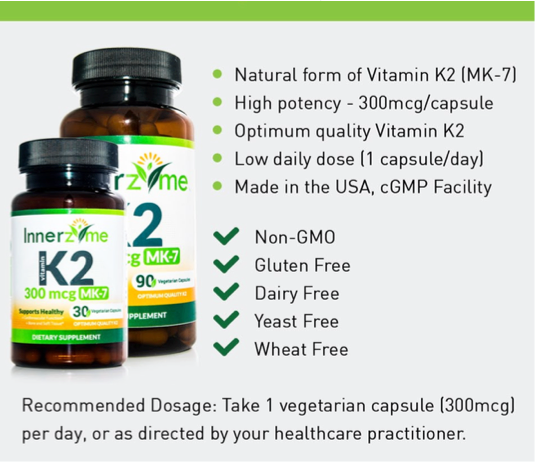 Recommended Dosage
Take 1 vegetarian capsule (300mcg) per day, or as directed by your healthcare practitioner.*
In healthy individuals, research has not reported any side effects, adverse reactions or known toxicity as a result of large doses of Vitamin K2. However, individuals on anticoagulants such as warfarin should consult their healthcare professional before adding a Vitamin K2 supplement to their daily regimen.
Cautions
If you have a health condition, are pregnant, nursing, lactating, trying to become pregnant or taking any medications (especially anticoagulants), consult your healthcare practitioner before using this product.
Keep out of reach of children.
Studies show high doses of Vitamin K2, MK-7 may address the following health issues:
Cardiovascular Health*
Bone and Soft Tissue Health*
Arterial Calcification*
Brain Function*
Osteoporosis*
Vitamin K2, the menaquinones is divided into short-chain menaquinones (MK-4) and long-chain menaquinones (MK-7, MK-8 and MK-9). Vitamin K2 is shown to be most effective on tissues such as bone, cartilage and vasculature.
What is the difference between Vitamin K2, MK-4 and MK-7?
Similar to Vitamin K1, Vitamin K2, MK-4 has been shown to be beneficial in the blood coagulation process. Vitamin K2, MK-4 is a synthetic form of Vitamin K2. It differs from MK-7 which is the natural form of Vitamin K2. Since MK-4 is synthetically produced, it has a minimal half-life of merely an hour or so compared with MK-7, which stays in the body longer (few days) increasing the likelihood of consistent blood level maintenance.
Although many people in Eastern cultures consume fermented soybeans, the slimy and smelly taste and texture of them often make it too harsh and unpleasant to consume. As a result, getting an adequate amount of MK-7 is easier and more convenient with supplementation of Innerzyme's Vitamin K2, MK-7.
Innerzyme offers one of the highest potency formulas of Vitamin K2, MK-7 on the market providing 300mcg of Vitamin K2, MK-7 as menaquinone-7 from Non-GMO fermented soybeans in a single dose (1 vegetarian capsule).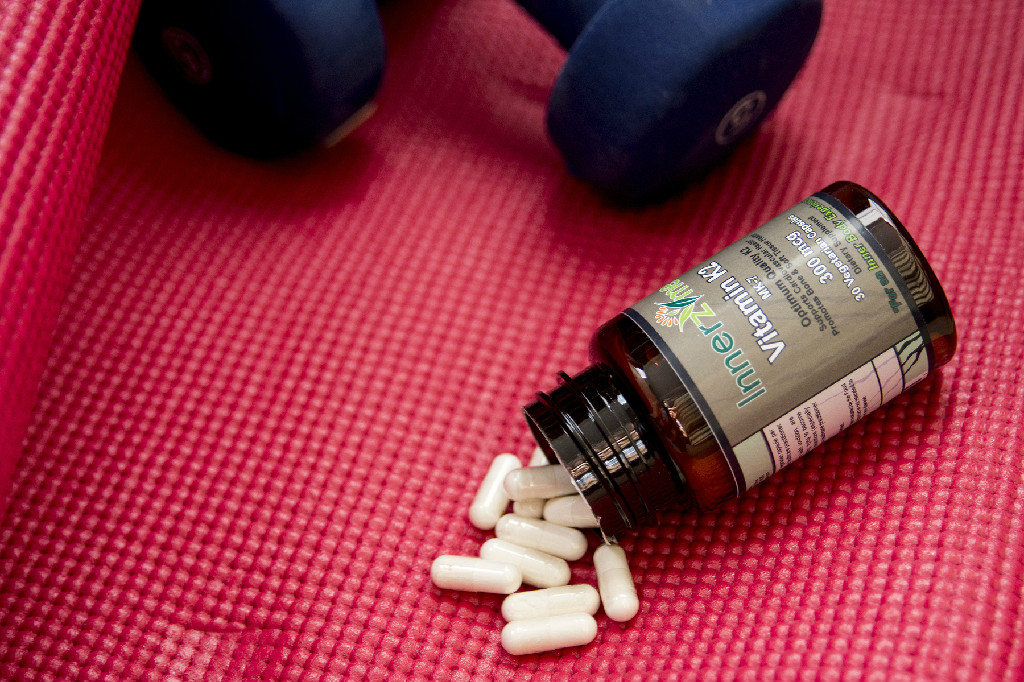 A study was conducted on healthy postmenopausal women to determine whether or not taking a dietary supplement of Vitamin K2 in the natural form of MK-7 could have a positive effect on bone health including strength and BMD (Bone Mineral Density). The results indicated, "MK-7 intake significantly improved vitamin K status and decreased age-related decline in BMC and BMD at the lumbar spine and femoral neck, but not a the total hip. Bone strength was also favorably affected by MK-7. MK-7 significantly decreased the loss in vertebral height of the lower thoracic region at the mid-site of the vertebrae" (1).
Why Choose Innerzyme's Vitamin K2, MK-7?
Natural form of Vitamin K2
Optimum quality Vitamin K2 (as menaquinone-7 from fermented soybeans)
Non-GMO
300 mcg of pure Vitamin K2, MK-7 per vegetarian capsule
High potency
Low daily dose (1 capsule/day)
Easy to swallow
Manufactured to highest standards – cGMP certified facility
Made in the USA
(1) M.H.J. Knapen, N.E. Drummen, E. Smit, C. Vermeer, E. Theuwisse. Three-year low dose menaquinone-7 supplementation helps decrease bone loss in healthy postmenopausal women. Osteoporosis International, March 2013. http://link.springer.com/article/10.1007/s00198-013-2325-6
*These statements have not been evaluated by the Food and Drug Administration. This product and information is not intended to diagnose, treat, imply, cure or prevent any disease.