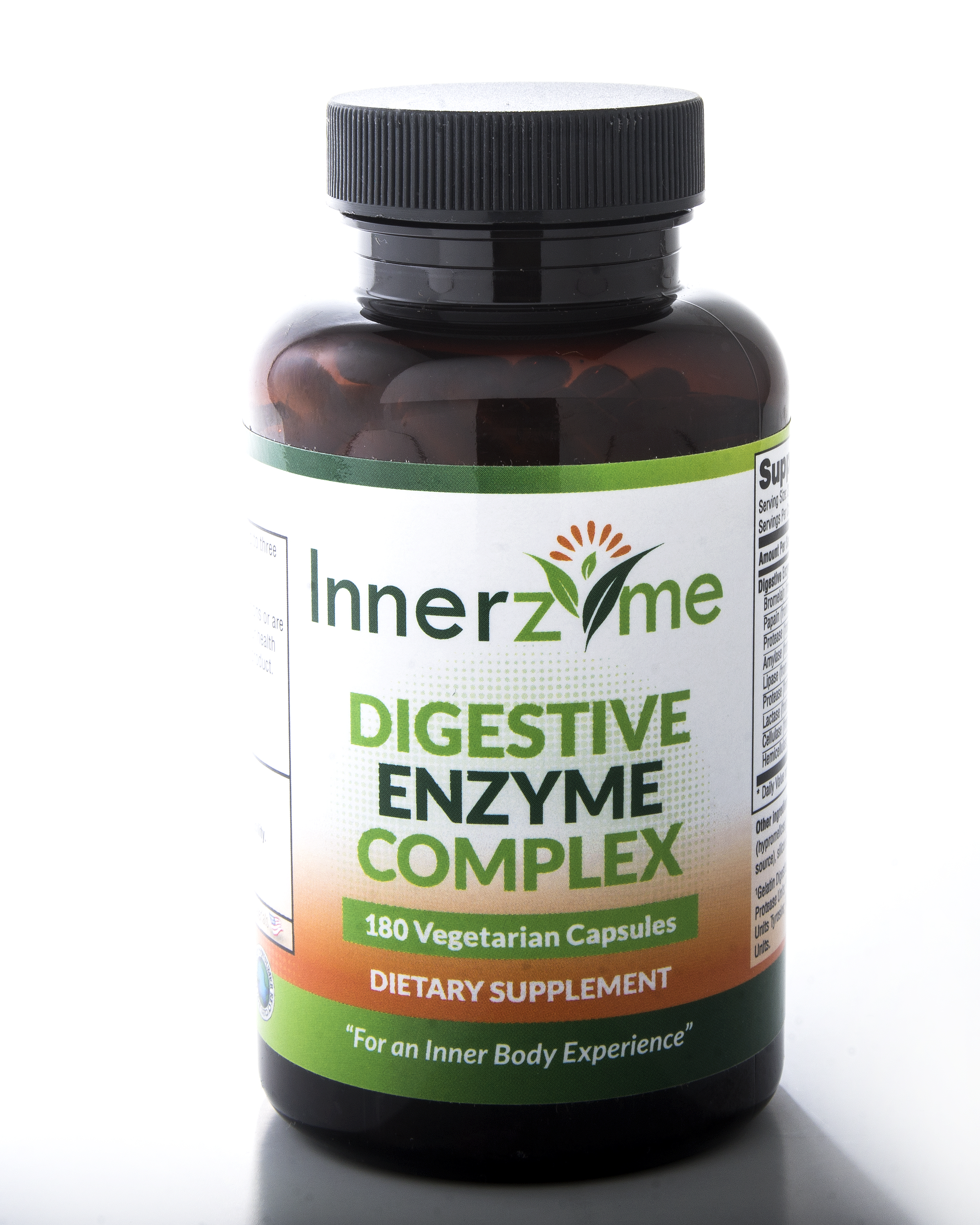 INNERZYME DIGESTIVE ENZYME COMPLEX
FULL RANGE DIGESTIVE ENZYME
Available in a 90 count & 180 count
Order - Buy Now!
Innerzyme's Digestive Enzyme Complex is a vegetarian blend of enzymes designed to support proper digestion and the release of vital nutrients. Supplementing your diet with digestive enzymes allows you to reduce the stress placed on the stomach from processed foods and meals high in fat, sodium and calories. Although raw foods contain enzymes, most people do not have a raw food diet so they lack the enzymes needed to ensure fats, carbohydrates and proteins are efficiently broken down and nutrients absorbed. Enzymes are a vital element in the human body. When taking digestive enzymes with a meal, your body has the ability to break down the food into small substrates that can be utilized for energy production throughout the day.
If you experience gas, bloating or occasional heartburn following meals then your body is not properly breaking down the foods you are eating. When foods are not broken down small enough to digest, they become toxic in the body. Implementing Innerzyme's Digestive Enzyme Complex before a meal will provide the support you need to naturally relieve these uncomfortable symptoms caused by undigested or partially digested foods.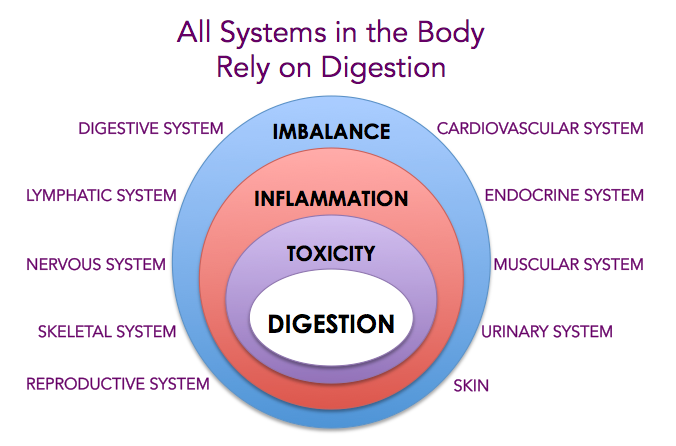 SUPPLEMENT FACTS
Serving Size: 2 Vegetarian Capsules
Servings Per Container: 45
| | | |
| --- | --- | --- |
| Amount Per Serving | | % Daily Value |
| Digestive Enzyme Blend | | |
| Bromelain (from pineapple fruit) | 120 GDU1 | * |
| Papain (from papaya fruit) | 600,000 FCCPU2 | * |
| Protease – acid stable (from Aspergillus oryzae) | 10 SAPU3 | * |
| Amylase (from Aspergillus oryzae) | 400 DU4 | * |
| Lipase (from Aspergillus niger) | 60 FCCLU5 | * |
| Protease (from Aspergillus oryzae) | 400 HUT6 | * |
| Lactase (from Aspergillus oryzae) | 20 ALU7 | * |
| Cellulase (from Trichoderna longbrachiatum) | 10 CU8 | * |
| Hernicellulase (from Aspergillus niger) | 10 HCU9 | * |
* Daily Value not established
Other ingredients: Rice bran, rice flour, cellulose, microcrystalline cellulose, magnesium stearate (vegetable source), silica.
Gelatin Digesting Units; 2FCC Papain Units, 1Spectrophometric Acid Protease Units; 4Dextrinizing Units; 5FCC Lipase Units; 6Hernoglobin Units Tyrosine; 7Acid Lactase Units; 8Cellulase Units; 9Hernicellulase Units.
Recommended Dosage
Take 2 vegetable capsules up to three times daily with meals for full digestive support.*
Cautions
If you are pregnant or lactating, consult a health care practitioner prior to taking this product.
Note: Everyone responds differently to digestive enzyme products. Taking 2 capsules with food or without food for up to three times daily is a general guideline. Consult your nutritional consultant to determine the appropriate dosage.
What is a digestive enzyme?
Enzymes classified as digestive are taken with meals, break down in the stomach and aid in digestion. Our well-balanced Digestive Enzyme Complex also acts as a barrier against the invasion or viruses and may help reduce inflammation throughout the body that begins in the stomach.*
Each enzyme in Innerzyme's Digestive Enzyme Complex serves a specific function: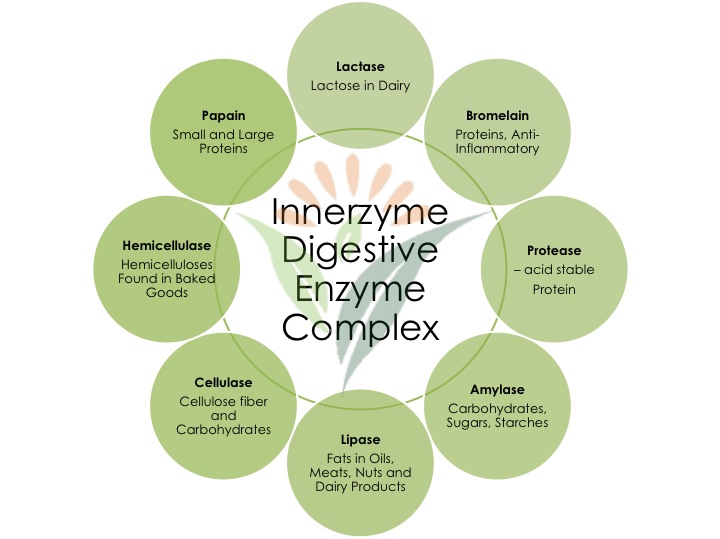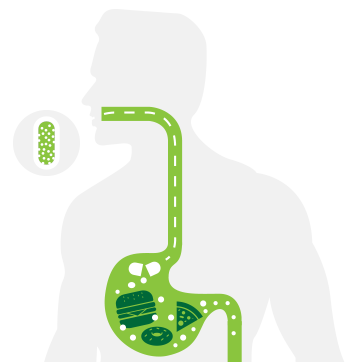 According to the National Institute of Health, 60 to 70 million people in America suffer from some type of digestive disorder. People who suffer from poor digestive health are commonly linked to:
Low Energy
Excessive Gas
Poor Skin Health
Joint Pain & Discomfort (Inflammation)
Bloating Following Meals
Weight Gain
Weak Immune System
Headaches
Heartburn
*These statements have not been evaluated by the Food and Drug Administration. This product is not intended to treat, cure or prevent any disease.