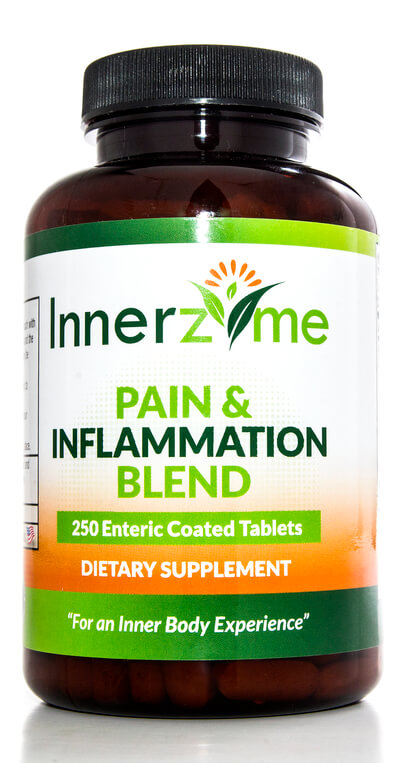 INNERZYME PAIN & INFLAMMATION BLEND
FULL SPECTRUM SYSTEMIC ENZYME
250 Count – Enteric Coated Tablets
Order - Buy Now!
Innerzyme's Pain & Inflammation Blend is a highly recommended, high potency, systemic enzyme formula that works throughout the entire body. Its enteric-coated delivery system protects the enzyme activity for optimal and maximum absorption. Not to mention the consistent quality and low daily dosages. One bottle of Innerzyme's Pain & Inflammation Blend is a two month supply.
SUPPLEMENT FACTS
Serving Size: 4 Tablets
Servings Per Container: 62.5
| | | |
| --- | --- | --- |
| Amount Per Serving | | % Daily Value |
| Contains: | | |
| Pancreatin 4x USP | 750 mg | * |
| Papain | 600,000 USP | * |
| Bromelain | 720 GDU | * |
| Trypsn | 9,000 USP | * |
| Chymotrypsin | 250 USP | * |
| Rutin | 400mg | * |
| White Willow Bark (15% salicin) | 100mg | * |
| Turmeric root | 100mg | * |
* Daily Value not established
Other ingredients: Dicalcium phosphate, microcrystalline cellulose, stearic acid, croscarmellose sodium, magnesium stearate, enteric coating.
Recommended Dosage
Take 2 tablets, twice daily on an empty stomach with water. Depending on the severity of inflammation, this dosage may be increased to 8 tablets daily.*
Cautions
If you are pregnant or lactating, consult a health care practitioner prior to taking this product.
Do not take this product if you are allergic to aspirin or salicylates; people taking blood thinners should not take this product without consulting with their health care provider.
Innerzyme's Pain & Inflammation Blend is a comprehensive blend of proteolytic enzymes, herbs and bioflavonoids. It is enhanced with Turmeric and White Willow Bark.

Systemic Enzymes Have 5 Main Functions:
Natural Anti-inflammatory
Anti-Fibrin
Blood Cleansing
Immune System Modulating
Virus Fighting
Are you living with pain? Whether you suffer from daily pain or just overworked your body with strenuous activity, Innerzyme's Pain & Inflammation Blend helps your body respond to pain and swelling safely and effectively.*
Did you know that nearly all injuries and operations result in inflammatory reactions and build up of excess scar tissue which causes pain and swelling? It is a natural protective response to injuries and trauma on a cellular level. However, if the inflammation is not resolved or reduced in the acute stage, it can become a chronic inflammatory problem.
When caring for injuries and during recovery following an operation, "it is important to apply medications for reducing the swelling and anti-inflammatory as well as fibrinolytic agents. If possible, such treatment should produce no adverse effects and should further the healing processes of the organism" (Wrba, H. & Pecher, O., Enzymes-A Drug of the Future, pg.75). There are no side effects with Innerzyme's Pain & Inflammation Blend. It is a safe and natural solution for post-operative scar tissue, inflammation and pain whether the surgery was recent or 15+ years ago.
Do you know the risks from Ibuprofen use?
Common Surgeries:
Hip Replacement
Knee Replacement
Breast Augmentation
Sports Injuries
ACL Injuries
Back Surgery
Neck Surgery
Shoulder Surgery
Oral Surgery
Proprietary Enzyme Blend
Our proprietary blend contains Pancreatin, Papain, Bromelain, Trypsin, Chymotrypsin, Rutin, White Willow Bark and Turmeric root. It is specially formulated to naturally reduce pain, inflammation, excess fibrin and the buildup of excess free radicals. The delivery system for Innerzyme's Pain & Inflammation Blend is an enteric coated tablet. The enteric coating protects the enzymes from premature release in the acidic region of the stomach allowing maximum absorption and optimal release of the proprietary blend in the pancreatic juices. High potency, minimal dosage with maximum benefit! When taken on an empty stomach, it is believed that enzymes may help manage inflammation by supporting healthy blood flow to the irritated area.*
*These statements have not been evaluated by the Food and Drug Administration. This product and information is not intended to diagnose, treat, imply, cure or prevent any disease.
Chymotrypsin
Chymotrypsin is naturally produced by the pancreas in the human body. The primary uses of chymotrypsin are as a naturally anti-inflammatory and as a digestive aid. As a natural anti-inflammatory, chymotrypsin may help reduce tissue damage and the formation of fibrin clots during inflammation.*
Turmeric
Turmeric is an herb, an Indian spice that has been used for many years because of its natural medicinal properties. Turmeric is rich in antioxidants and is a powerful anti-inflammatory. The antioxidant compounds found in turmeric are known as curcuminoids. These compounds have been shown to help reduce the buildup of excess free radicals. They also neutralize existing free radicals by scavenging them. It also has been shown to support healthy liver function, digestion and inflammatory response.* According to David Frawley, PhD, founder and director of the American Institute for Vedic Studies in Santa Fe, N.M., "If I had only one single herb to depend upon for all possible health and dietary needs, I would choose the Indian spice turmeric."
Rutin
Rutin is a potent bioflavonoid which are water-soluble plant pigments, naturally occurring chemical compounds important to maintaining optimal health. They support health by protecting and strengthening capillaries, help prevent bruising and provide support for many other biological functions.*
White Willow Bark
White Willow has been used for decades because of its pain relieving and fever reducing properties. White Willow is also thought to support a healthy inflammatory response.*
Bromelain
Bromelain is most notable for its effectiveness in the reduction of inflammation and decreasing swelling, but the scope of its benefits continues to increase.* Derived from the pineapple fruit, this natural anti-inflammatory has many health benefits. Learn more about the benefits of bromelain by visiting our Health Articles section