A HEALTHIER YOU STARTS HERE
We want to provide you with the knowledge you need to make the right choice when it comes to nutritional supplementation and your health.

Made in the USA • Ethically Created • High Quality Ingredients • Safe, Natural & Effective
Congratulations on taking the first step towards a healthier you.
Innerzyme is revolutionizing the natural supplement market with high quality, specially formulated products to help optimize your health and improve your overall quality of life.
We are excited to introduce 3 NEW Innerzyme products! With cold and flu season right around the corner, it is important to take a preventive approach and support your immune system. This is why we created an Innerzyme Immune Support + Defense Kit. Comprised of an Omega 3 Plus – High Potency Fish Oil, Double Strength Probiotic Complex and Vitamin D 5000 IU. Remember, it is not "if" your body is going to be exposed to a virus, the question to ask is…how strong is your immune system "when" you are exposed to a virus? The way to keep your immune system ready for battle is by allowing it to operate at its highest capacity. Give your immune system the support it needs for a healthier, happier holiday season. These new products are available individually or as a kit.

Please let us know if you have any questions or need help choosing the Innerzyme product that is right for you.
Wishing you a healthy holiday season!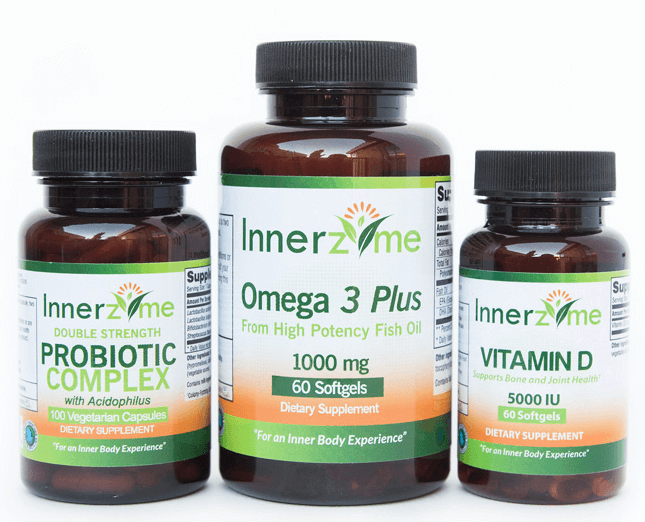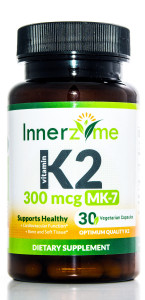 INNERZYME VITAMIN K2, MK-7, 300MCG
PURE & NATURAL VITAMIN K2 SUPPLEMENT
Optimum quality Vitamin K2, MK-7 (as menaquione-7) from Non-GMO fermented soybeans.

Highest potency, natural Vitamin K2 supplement on the market yielding 300mcg in a single vegetarian capsule.

Vitamin K2 deficiency is on the rise and linked to many age-related health conditions.

Available in a 30ct and 90ct.
What doctors are saying about Innerzyme
*These statements have not been evaluated by the Food and Drug Administration. This product is not intended to diagnose, treat, cure or prevent any disease.